Warehousing and Logistics/ Co-Manufacturing
Warehousing and Logistics
Contract logistics - Outsourcing of logistics services
We provide full service of the logistics chain starting from warehousing, through transport, distribution and a number of value-added services (co-manufacturing, co – packing). All services in one company according to the "one stop shopping" formula.
We have one of the largest warehouse parks in Silesia with a total size of over 125,000 m2 of class A warehouse space, including:
standard warehouses (pallets)
the warehouses are equipped with overhead cranes with a lifting capacity of 5, 10 and 15 tons
customs warehouses and bonded stores
We have been operating on the logistics services market for over 30 years and we have qualified staff of experienced employees. Our logistics centers are located in southern Poland: Chorzów, Świętochłowice, Ruda Śląska, Gliwice
We offer
Warehouse, return and distribution logistics:
handling in/handling out
unpacking
label removal/labeling
attaching warranty cards, instructions
co-packing
assembling sets
JIT delivery logistics (directly to the production line).
disposable packaging designed in accordance with technical specifications and production constraints
coordination of transport from many suppliers
joint operations with all plants and suppliers
quality control
E-commerce logistics:
storage of products sold through the e-commerce channel
preparation and shipment of deliveries
returns and exchanges handling
In warehouse management, we use a modern WMS system, which allows us to effectively manage logistics operations, shortens the time of order picking and allows you to maintain full control over warehouse inventory.
foiling
packing, preparing for shipment
quality control
picking/disassembly
printing of documents: invoices, delivery notes
customs formalities
Inventory and reporting of stock levels
VAS (value-added services) - labelling, preparation of stands, sets, others
real-time controlled inventory
deliveries to the production line (JIT)
JIS (Just in Sequence)
In the field of contract logistics (outsourcing of logistics services), we offer logistics solutions tailored to individual customer needs. We manage logistics in a comprehensive manner. We provide complete solutions for the storage and distribution of goods, planning all warehouse processes and operations, as well as carrying out the distribution process directly to the points of sale.
The scope of the offer includes:
warehouse logistics
distribution logistics
Reverse logistics
handling of procurement processes
Information flow management
The latest technologies and management processes
Additional services under the contract
We guarantee logistics outsourcing at the highest level - regardless of the size of the company and the scope of activities entrusted to us.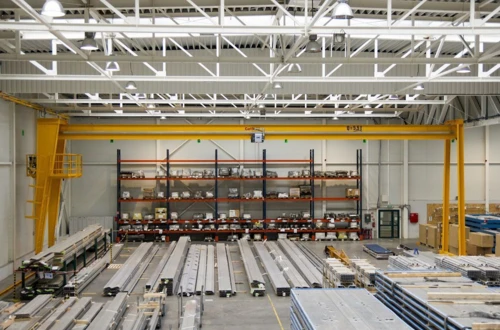 To support each project we provide:
comprehensive logistics services using 300 units of our own rolling stock warehouse and production halls with a total area of over 120,000 m2
qualified engineering staff
paved, guarded storage yards with an area of over 100,000 m2
technical facilities - including halls equipped with overhead cranes, professional painting shops, welding and compressor plants
assembly lines
Construction and technology offices with the necessary equipment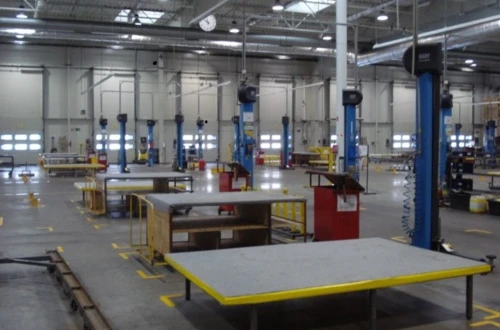 Advantages of using contract logistics services:
flexibility of activities carried out
reduction of production costs
access to know-how and modern technologies
the ability to focus on your own development and sales
the possibility of achieving synergy between logistics and production
release of capital invested in fixed assets and production materials
We provide services in the field of co-manufacturing / contract manufacturing, the aim of which is to relieve customers of production and logistics functions by implementing comprehensive solutions dedicated to specific projects.
We have experience in the implementation of the following projects:
preparation of SKD and CKD sets
creating assembly kits used in the automotive industry
assembly of automotive components
production / assembly of small architecture elements
production / assembly of road infrastructure elements
Assembly of consumer electronics devices
modification of transport packaging, disassembly of packaging elements, assembly of substitutes
We offer the implementation of the project, starting from consulting, through implementation and continuous improvement of the process in the field of individual services.
To support each project we provide:
warehouse, production and office space in the Logistics Centre in Świętochłowice
qualified engineering staff to handle each project
value-added services in the field of engineering, packaging design and transport instruments
projects based on the highest quality standards and Lean Manufacturing philosophy;
high standard of service, punctuality in combination with transport services and warehouse logistics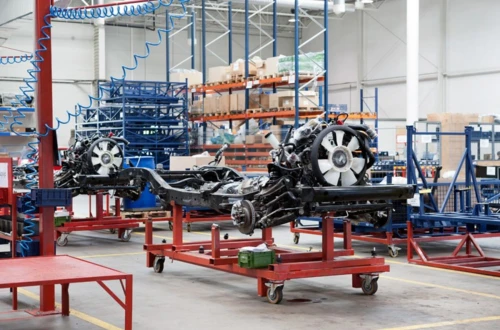 Benefits of entrusting selected production and logistics functions to a specialized outsourcing company:
focus on sales, customer service and product development
increasing cost flexibility
avoiding the need to maintain and manage a large crew
avoiding the need to have numerous and extensive departments such as: maintenance, HR, etc.;
avoiding the need to engage capital (halls, material, etc.)
entrusting the process to experts with extensive experience