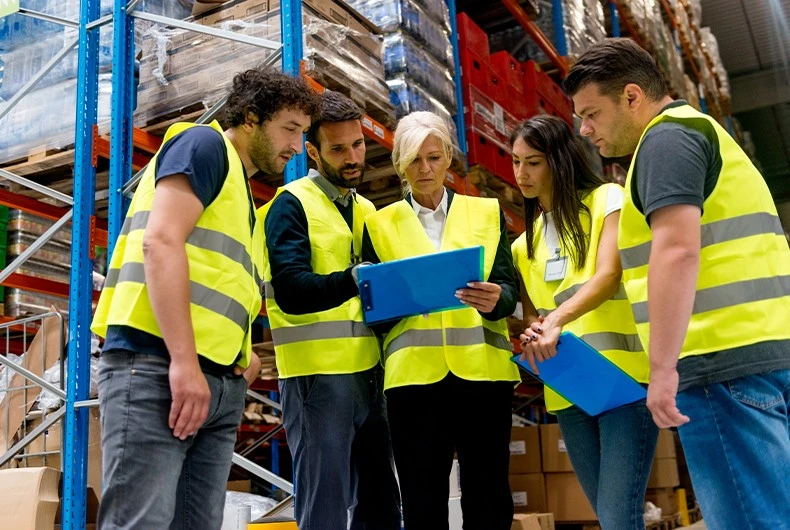 DELTATRANS
Mission & Values
Our mission is to provide services whose quality, modernity and flexibility will ensure full satisfaction of customers and our company sustainable development.
We operate on the basis of fair competition and respect for good practices and legitimate interests of consumers.
About us
Who
we are
Delta Trans Group is one of the largest logistics operators in Poland and has been one of the leading transport and logistics companies in Europe for over 30 years. The Group is one of the few that, based on its technical and intellectual background, provides services tailored to the client's needs in accordance with the one-stop shopping model.
What we offer
Modern services, tailored to customer needs and changing market requirements. We specialize in road transport: FTL, groupage, partial, and small shipments - in Europe and in the country. In an extensive warehouse base, we carry out warehousing processes supplemented by a number of specialized services in the field of warehouse and contract logistics. In addition to logistics, we also provide production services, including the design and production of transport containers and steel constructions, as well as co-manufacturing services. Our network of Customs Agencies provides a full range of customs procedures. All this means that our offer built on the basis of the most modern TSL tools is fully comprehensive, flexible and competitive.
What we have
A total of 7 branches of the company and the main logistics center located in Świętochłowice. The whole organization consists of warehouses, production halls, domestic and international forwarding offices, a car wash and a truck repair workshop and Customs Agency facilities.
Modern warehouse and production halls with a total area of over 125,000 m2. Production and warehouse areas together with a warehouse and customs warehouse are located in the logistics center in Świętochłowice and Chorzów. Other logistics warehouses are located in Ruda Śląska.
Modern production technologies and BI solutions, including the Astro WMS Warehouse Management System, recognized as the best WMS class IT system in 2022.
A total fleet of about 300 vehicles. The machine park consists of tractor with trailers MEGA 24 t and curtain trucks with an average volume and load capacity of up to 5 tons.
Steel Structures Department with its own design office based on Catia5 and Siemens NX programs, production preparation department equipped with a modern laser cutter, KREON measuring arm and a production hall, including an extensive welding shop.
A modern paint shop adapted to painting passenger cars and trucks
History
Delta Trans
Group
The Delta Trans Group consists of two companies: Delta Trans Transporte sp. z o.o. and Delta Trans Logistik sp. z o.o., the first of which was established in 1989 and initiated the company's activity in the field of transport and customs services. In 1991, the second company was established, and with its establishment the scope and range of services provided increased.
History
Important dates
1989
Establishment of Delta Trans Transporte Sp. z o.o.
1991
Establishment of Delta Trans Logistik Sp. z o.o.
1998
obtaining the first quality certificate in accordance with ISO 9002
2002
start of production activity – works ensuring the circulation of pallets and containers used in logistics services.
2004
related to the accession of Polish to the European Union, reduction of customs agency branches. At that time, the size of the owned fleet was doubled and investments related to the building of its own logistics and production center in Świętochłowice began.
2006
start of operation of the logistics center in Świętochłowice. This is the time when the company already had a developed warehouse infrastructure, a fleet of over 300 units, as well as IT systems for logistics and fleet management.
2007
opening of a high-bay warehouse in Świętochłowice, which increased the existing warehouse space to over 40,000 sqm. Along with the increase in warehouse facilities, there was a dynamic development in the scope of logistics outsourcing services, including co-production, co-packing, as well as other value-added services
2008
relocation of the headquarters of both companies from Chorzów to Świętochłowice.
2012
obtaining a certificate confirming compliance with quality requirements in welding according to EN ISO 3834-3 (DTT). The company already provided a wide range of production services, which included welding work
2012
receipt of the AEO Certificate (DTT) issued by the Director of the Customs Chamber relating to the use of customs simplifications. The use of the simplified procedure has significantly reduced the time of customer service.
2013
obtaining the SLV certificate (DTT) according to the 1090-1 standard related to the production carried out in the Department of Steel Constructions
2014
establishment of a branch of the customs agency at the International Airport in Pyrzowice.
2016
expansion of warehouse infrastructure, which today is located in the Świętochłowice Logistics Center, as well as in Chorzów and Ruda Śląska
2020
increase of warehouse space owned in the Hillwood park in Ruda Śląska by over 10,000.
2020
implementation of the TMS Apollo Betacom system, used to handle groupage shipments
2020
Power BI implementation for Astro WMS storage management system
2021
receiving the Silver Medal in the EcoVadis 2022 (DTT) rating. The award placed us among the 25% of companies around the world that best integrate non-financial factors (ESG) in their strategies and operations.
2023
another rating and again awarded with the EcoVadis 2023 Silver Medal (DTT)